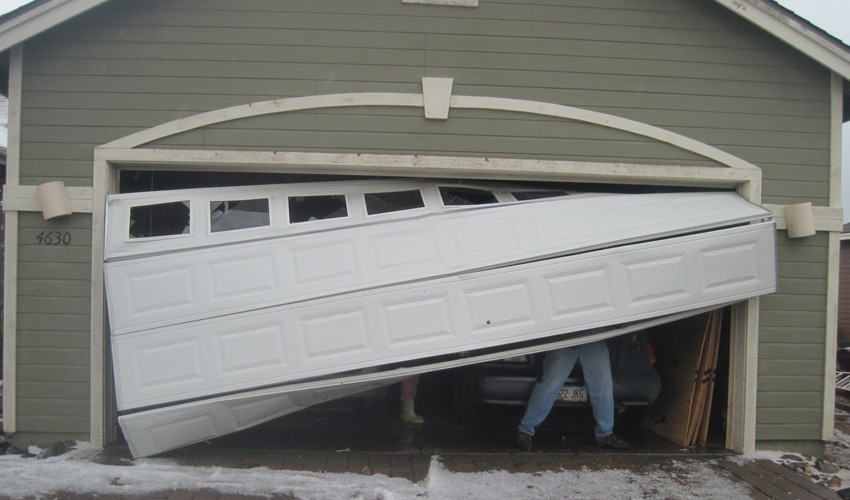 Garage Door Repair You Can Trust
Garage doors are assembled with many different moving parts. Moving parts eventually wear out and break down especially without regular garage door maintenance. If you have noticed a difference with the performance of the garage door or your opener it might be time to make a repair. Issues to look out for include:
The motor is having a difficult time opening or closing the door
The door is sticking or not consistently opening and closing
Excessive squeaking or grinding noises
The garage door looks tilter or crooked
We can help with all types of garage door repairs including:
Broken Garage Door Springs
A broken garage door spring is one of the most common issues we see with our customers. Garage Doors springs are rated on a life cycle. If your garage door has standard springs you can expect them to last between 7-10 years with normal usage. We can quickly replace your old springs with new standard standard cycle models or even upgrade to a higher life cycle spring that could last upwards of 50 years with normal door usage.
Garage Door Opener Repairs
Garage Door openers have many different parts that can fail over time. The good news is that almost every part is replaceable so oftentimes you won't need to replace the whole unit. Garage Door opener problems vary between the external remote, the receiver, or internal parts. Whatever the issue is with your garage door opener we'll get it "moving" again.
Rollers
Does your garage door open okay but when it does, it has a squeaking or grinding noise? Does your door shake or bounce on the way up or down? A faulty roller can cause your garage door to bend or even crack as the door can be too stiff to roll smoothly through the track. Older garage door rollers are often times made of cheap plastic or steel. We can install new nylon ball bearing rollers that will last the life of your garage door.
Hinges
Garage door hinges are a vital part for proper garage door usage. If the hinges are worn out, they will likely become too stiff and will squeak and can even break causing significant damage. Old hinges can cause the door to bind as it moves up or down which can result in the door coming off the track or the cable slipping off the torsion assembly. Replacing the hinges is a common service and is highly recommended to increase the life of your garage door and potentially save a ton in future repair and replacement costs.
Outdated Parts Replacement
Have you been told that they don't make a certain part or even a garage door like yours anymore? Older parts are often times still available if you know where to look. Even when they are not, our technicians with over 30+ years of experience know how to do the necessary repairs to keep your garage door working as expected.
Panel Replacement
One of the most common reasons for needing new garage door panels is because of homeowners who back into their garage doors. Accidents happen and we can help get your door back up and running. Maybe it is time to update the look and feel of your garage door panels and we can help with that as well! Your Garage Door Guys has been In the industry for more than 30+ years and can identify just about every garage door manufacturer and design sold. We are often able to fix or replace just the broken panel without replacing the entire door.
Garage Door Maintenance
Garage door manufacturing companies recommend servicing your garage door twice a year. This could be done on your own with some simple silicone lube and a few adjustments. Feel free to call us and we could walk you through it on the phone. If you are wanting a professional to do the maintenance, Your Garage Door Guys would be more than happy to come out and inspect your doors and motors and do the necessary adjustment
Plano TX, Frisco TX, Mesquite Tx, Allen TX, Little Elm TX, The Colony TX, Prosper TX, Fairview TX, Sunnyvale TX, Quinlan TX.